About Sun Location
About us
Established in June 2006, Sun Location is an independent platform specialising in online booking of individual holiday homes, cottages and villas with private pools. Our vocation is to propose accommodations to rent for stays of a few nights to several weeks, allowing you to enjoy a stay in peace.

Most of the accommodation offers on sunlocation.com are located in Europe, in countries such as France, Spain, Italy, Portugal, Croatia or Greece. More than 50,000 so-called "independent" holiday rental offers are currently available on the platform, to book online safely and peacefully.
Sun Location is a French company located in Savoie (between Chambéry and Lyon) in the municipality of Pont de Beauvoisin (73330).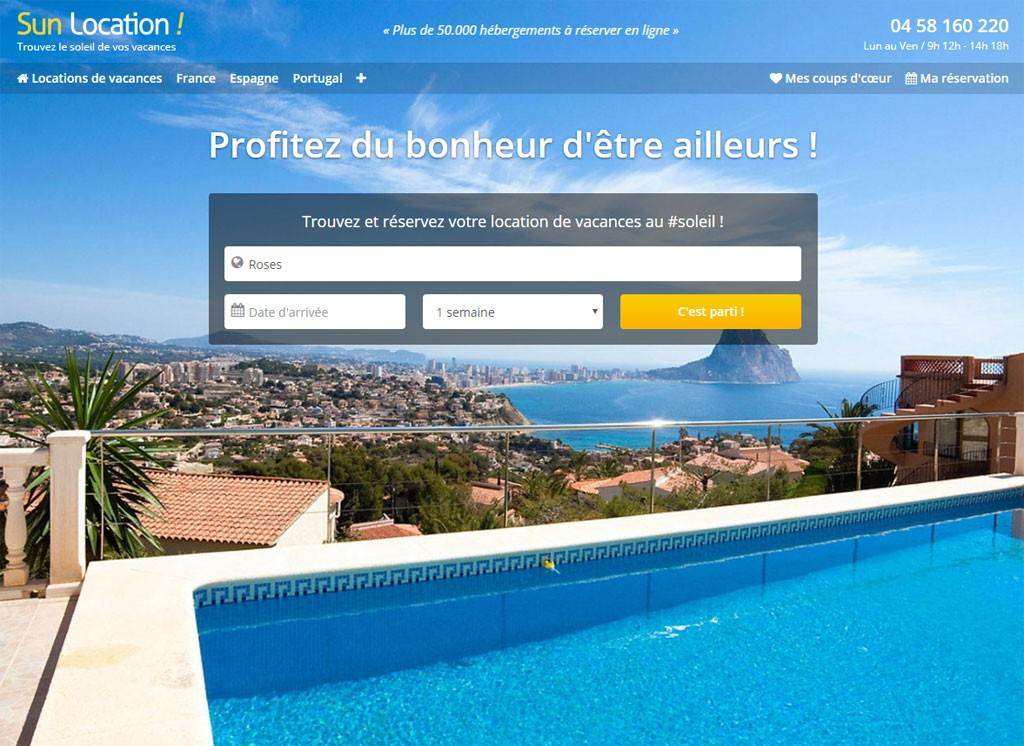 Do you dream of finding the ideal rental which will best match your desire to get away?
Looking for accommodation with stunning sea views, a charming mountain chalet at the foot of the slopes, a beautiful detached house with a garden & barbecue or a superb villa with private pool?
Feel free to consult the holiday accommodation offers published on sunlocation.com to find the ideal location in a few clicks !
Our motto: "Find the sun of your holiday on Sun Location!"
Where do the holiday rentals come from?
The accommodation offers offered on the website come exclusively from agencies specialising in seasonal rentals. In close collaboration with serious and renowned partners, such as Interhome, Belvilla, Novasol or Interchalet..., our vocation is to promote, on a single website, a wide choice of reliable and totally secure holiday rentals.
The Sun Location catalogue is updated between one and several times a day by automatically importing information about accommodations such as photos, descriptions, availability and prices.
The role of Sun Location is to connect agencies and Internet users looking for a rental for their future stays, through a simple, fast website and a convenient-to-use search engine.
Sunlocation.com is not a classifieds site of private holiday rentals allowing owners to register in order to broadcast offers of accommodation.
All information about the seasonal rentals is displayed in a transparent way, and comes exclusively from our partners who provide us with:
a descriptive and detailed content of the dwellings,
photos,
the geographical location,
availability & prices in real time,
immediate online booking (instant),
100% secure online payment.
"On Sun Location, book a holiday rental in the same way as a plane ticket or a hotel room !"
Indeed, when you make a booking on Sun Location, the chosen accommodation is immediately restricted to you for your dates of stay which avoids the phenomenon of "double booking".
How to search for a holiday rental on Sun Location?
Sunlocation.com is a website which is very easy to use. To search for a holiday home through the homepage, simply:
enter a destination (country, region, department, province or city),
select a start date of stay (date of arrival),
choose the length of stay (from 1 to 4 weeks),
and click on the button: "Search" or "Let's go!"
A page corresponding to a list of results will allow you to visualise a first selection of holiday rentals and, at the same time, to access new criteria to refine your search.
It will then be possible to select the number of people, indicate the desired number of rooms or choose equipment & criteria such as a private pool, air conditioning, barbecue or internet access (Wi-Fi) ...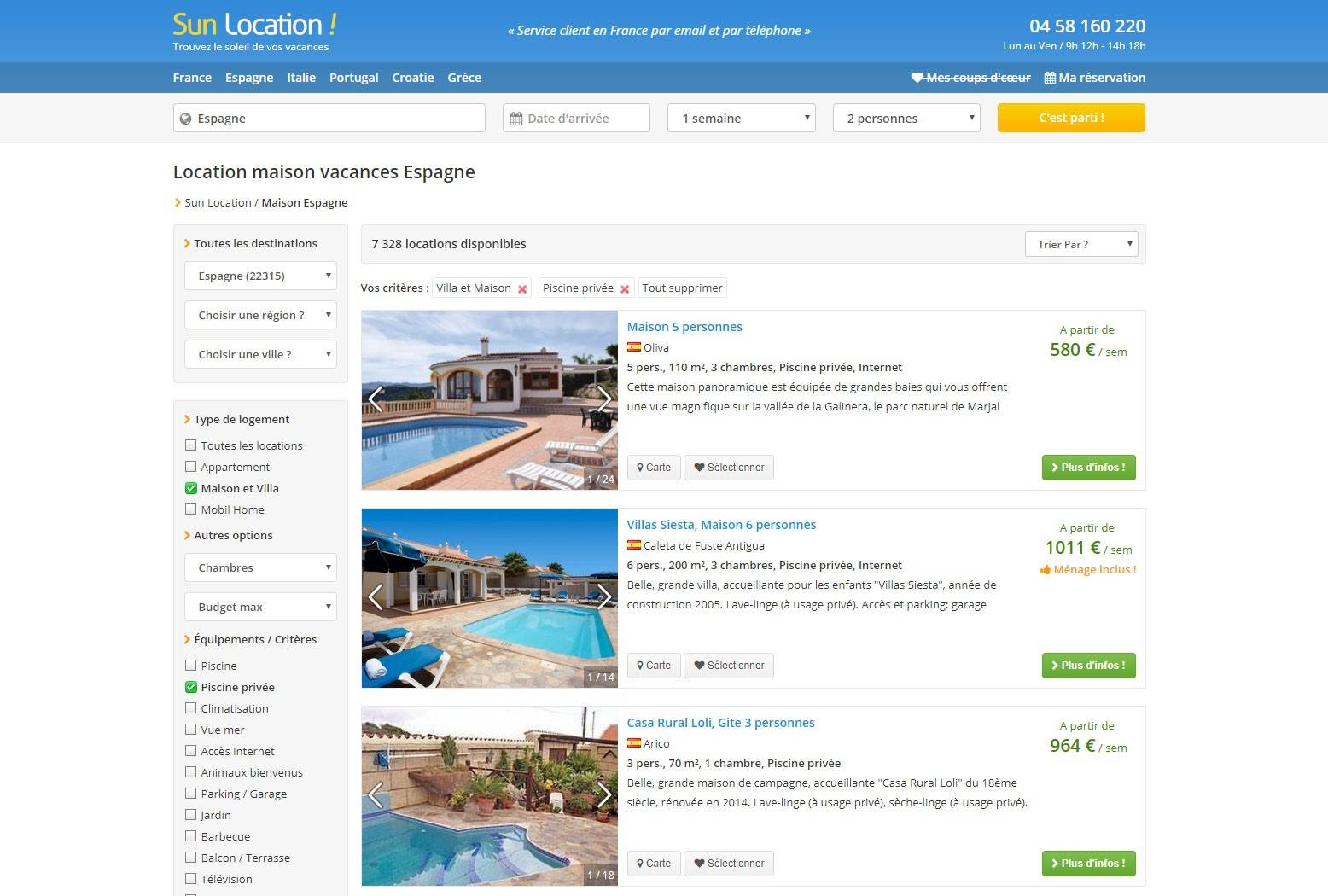 By clicking on a result presented on the search page, you will be able to consult the complete detailed sheet summarising all the information concerning the selected accommodation.
Each holiday home is presented through a complete advert, including many photos, a detailed description (capacity, peculiarities, equipment, environment...), a map indicating the geographical location and a calendar (interactive planning) to visualise the real-time availability and prices of stays.
Advertisements may also contain customer reviews posted by users who have stayed in rentals.
How are accommodation offers ranked ?
Sun Location does not apply specific rankings or display priorities based on partners. Indeed, all adverts are displayed randomly.
However, features to sort result lists by price or by capacity are available on the search pages.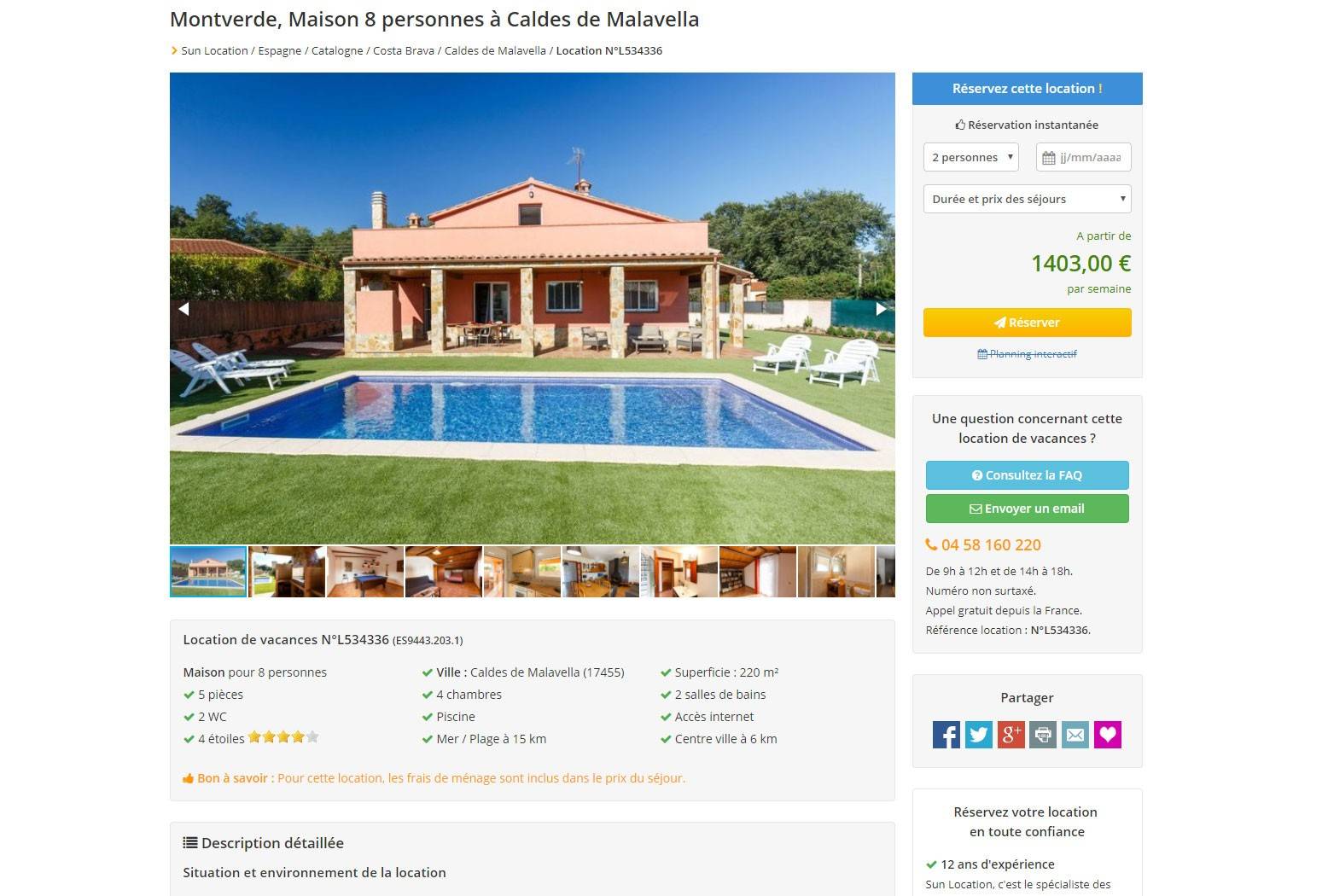 How do I book a holiday home?
Sur chaque annonce (fiche détaillée), un planning interactif permet de visualiser les disponibilités en temps réel des locations. Les cases vertes indiquent que le logement choisi est disponible tandis que les cases roses précisent  les périodes indisponibles.
En cliquant sur une case de couleur vert foncée (correspondant à une date d'arrivée possible), il est ensuite possible de consulter la liste des séjours disponibles, les prix et de procéder à la réservation en ligne.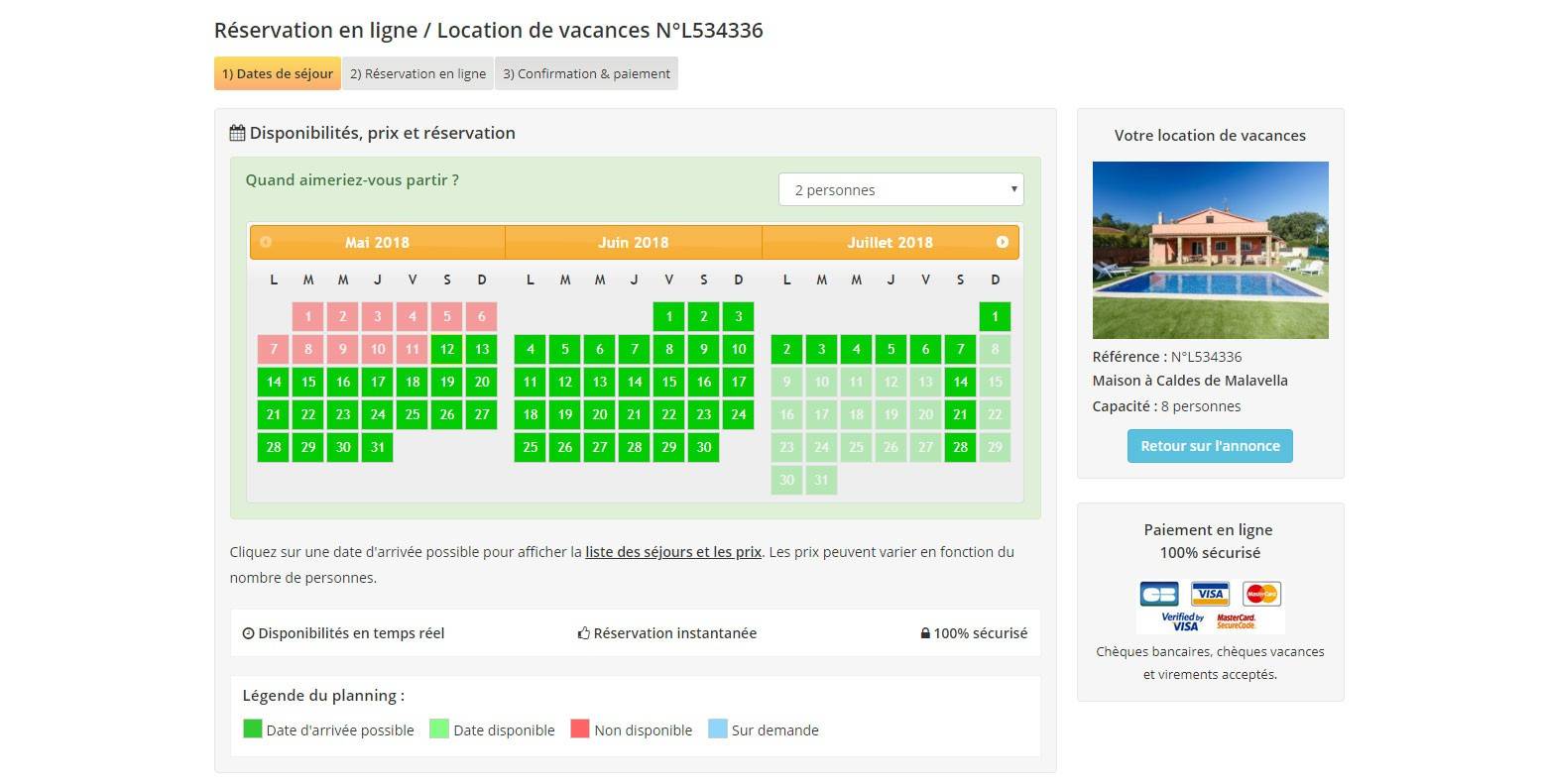 The next step allows you to access the booking form or it will be necessary to:
indicate the number of people participating in the stay: number of adults, children under 12 and babies,
know the detailed price of the stay: amount of the deposit to pay, the balance, and additional costs to be paid on the spot,
fill out the booking form by entering your contact information, your postal address, your email address and your telephone number.
After validating the booking form, the selected rental is immediately blocked for you and for your dates of stay. A booking number is assigned, and you receive a confirmation email from Sun Location and from the agency concerned with the management of the accommodation.
The reservation is definitively validated after paying the deposit or the total price of the stay which you can pay by credit card, but also by cheque, transfer or traveller's cheque depending on the proposed accommodation. Indeed, the terms of payment may vary depending on the agencies and therefore rentals.
The lease is directly with the agency. Sun Location is therefore an intermediary between holidayers and agencies specialising in seasonal rentals.
How to contact Sun Location ?
Our customer service is at your disposal by email for any questions about a rental or to accompany you during your booking.
You will find on our FAQ section (frequently asked questions) answers to the main questions asked about the operation of the website or about the booking of a holiday rental.
Find all our contact details on our contact page or consult all the information about the company on the legal notice page.